Care "ANYWHERE"
NO trips to the emergency room, urgent care center and other services.

Around The Clock Service 24/7
Access doctors, counselors and other healthcare professionals 24/7 via phone, FaceTime & Webcam.

Immediate Prescription Service
Visit a doctor online and have a prescription filled by a local pharmacy within minutes.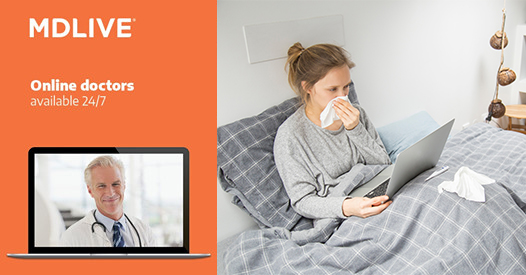 Your college students are in great hands
Protect My College Student gives you unlimited access to healthcare professionals. Our team is friendly, board-certified and experienced. They can quickly diagnose ailments and advise/counsel students on non-emergency conditions with the use of virtual technology.
Our Benefits
PROTECT YOUR COLLEGE STUDENT
Parents Just Like You
My parents were worried about me going away for college. They signed me up for Protect My College Student and I figured they were just being over protective. One Saturday night I started feeling a cold come on. I had finals all week and I needed to get meds soon. I was able to talk to a doctor who prescribed the meds and I picked them up Sunday morning and got started.
My daughter deals with allergies all the time. She's going to college in Florida and on our visit to the campus the allergies hit her again. I knew she would be battling them all semester and I liked the idea of having a program that allows her to see a doctor whenever she needs it and get a prescription for her meds.
My oldest was leaving home for the first time and going to a college that's 5 hours away from us. Needless to say, we were a bit nervous. We signed up for the Protect My College Student program as soon as he graduated high school because we didn't want to worry about sending money in the middle of the night or him getting immediate care if he needed it.
Packages
FIND THE RIGHT PACKAGE FOR YOUR COLLEGE STUDENT
Plans
Common cold
Allergies
Constipation
Cough
Diarrhea
Ear Problems
Pink eye
Respiratory Problems
Sore throat
UTI (Females, 18+)
Fever
Flu
Headache
Nausea
Vomiting
And more
Unlimited Medical Visits 24/7 from anywhere. NO CO-PAY
We're Always Here, Even When You Can't Be!
Protect My College Student makes it easier than ever for teens and young adults to get assistance with:
[lpd_vc_bulleted_list color="rgba(255,255,255,0.7)" link_hover_color="#ffd000″ line_height="40″ icon="check" icon_color="#ffffff" css=".vc_custom_1556817005397{margin-bottom: 0px !important;}"]Seeing a doctor for an ailment/condition
Getting a prescription filled
Get advisement for health concerns
Learn ways to improve health and manage school [/lpd_vc_bulleted_list]